Decades of furniture making experience combine with furniture design in this new and refreshing take on woodworking. In addition to detailed furniture making techniques, the book delves into the thought process behind furniture design. Skills and processes to advance you as a woodworker and furniture maker are described. The book is also a window on the life of a furniture maker. Although the focus of the book is hand tools, use of machines in the preparatory phase of a furniture build is addressed. Time and labor-saving precision hand tool procedures are discussed. The emphasis turns to hand tools in latter stages of a furniture build where attention to detail is necessary. A reverence to wood as a medium is featured throughout the book.
Homage is paid to classic techniques such as dovetail joinery and workbench processes. As well as the traditional, modern techniques and processes are put forward to make your furniture designs stand out and be unique. The focus is one of a kind furniture, the unique furniture and wood objects that separate you from other makers. As a furniture designer + maker, discover my passion, what drives me and where I draw inspiration from. Learn how to develop your own style, aesthetic and voice in furniture design. It is not the how but the why behind the process that is often critical in a furniture maker's mind and practice.
The premise for this book is to provide insight into the craft of woodworking and more specifically the creation of furniture. The book is composed of sections, each of which is critical to your woodworking journey. Acquiring skills and knowledge in the last century involved taking classes, reading books or mentoring with a knowledgeable woodworker. Today, in comparison, there is a wealth of knowledge available through the Internet. What is lacking however, is the hands on aspect of the craft of woodworking. Learning involves making. I know of no one that learned a craft by simply reading and not applying themselves. It is critical to embrace the often lengthy learning curve involved. This book includes several articles focusing on woodworking in a contemporary world.
The book is composed of four sections. Each section contains articles that a woodworker or furniture maker will need to embrace as they evolve. The first section introduces basic woodworking skills. A large part of this book is devoted to hand tool skills. Although machines are combined with hand tools in my furniture making, I advocate that woodworkers should embrace hand tools. It is necessary to form a connection between hand and wood medium prior to seeking efficiency and a production mindset. Hand tools often get a bad rap as being slow and tedious. Instead, what hand tools offer is control,  dexterity, quiet and a close connection to the wood medium. In a one person furniture making studio, hand tools offer a healthy balance to the use of machines. Projects include through dovetails, portable board jack build, moxon vise build and knife hinge install.
The second or  furniture maker section provides a glimpse into furniture making as a career. Woodworkers often aspire to become furniture makers or go into business for themselves. As a furniture maker for several decades, I share knowledge and insight acquired over the years. Some articles will inspire you to take the leap and become a full time furniture maker. Topics in the section include setting up shop, the furniture maker journey, the furniture maker lifestyle, social media for a furniture maker, and insight into diverging from furniture making to other forms of woodworking.
The third section is devoted to furniture design. Furniture design forms a large part of woodworking. Often, it is necessary to design a complete piece of furniture or modify an existing design. The design process has evolved over past decades with the advent of computer software (CAD). Pencil and paper are now combined with CAD. Articles include how to create and refine a design, the concept of form and function and how it applies to furniture.
The fourth or advanced woodworking section delves into techniques to further your woodworking and furniture making. Veneering techniques, both manual and vacuum veneering are described. The process of creating a jewelry box is discussed in one article. The Japanese art of Kumiko is described in a final article.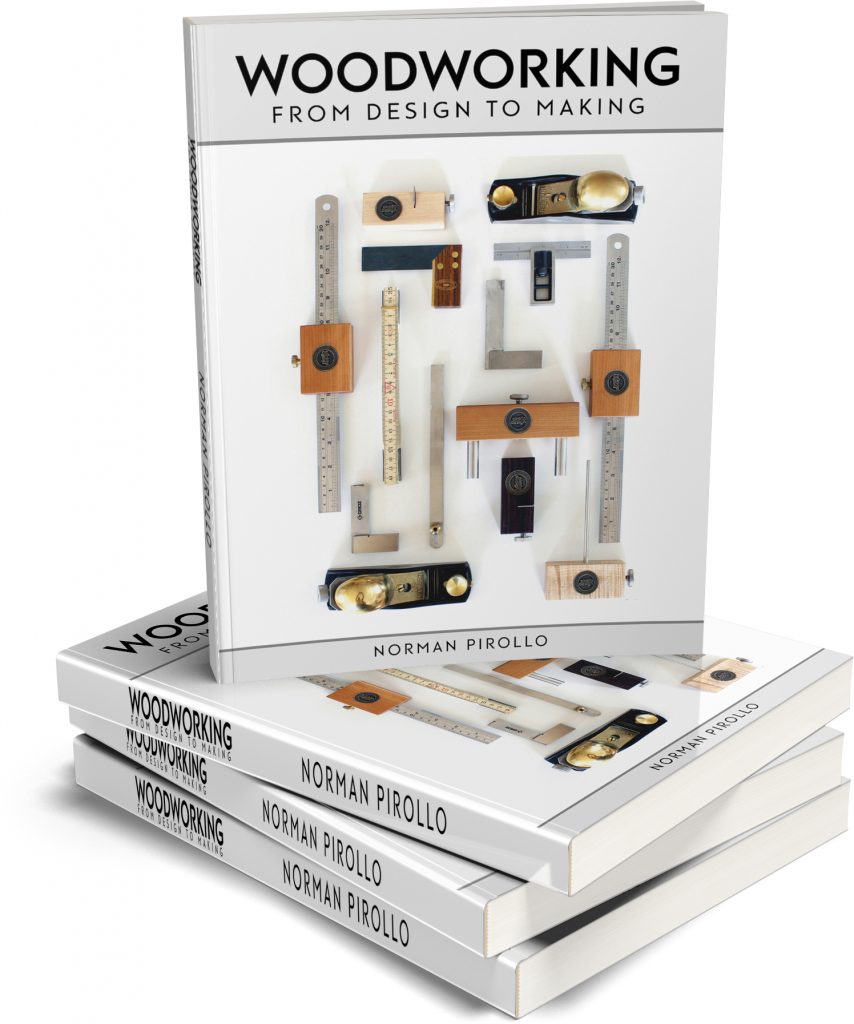 Patrick Soran writes: "Beautiful book. Well done."
235 Pages, 8.5 X 11 in. Non-fiction.  $15
WOODWORKING: From Design To Making $15 (Digital)


Print Edition:  WOODWORKING: FROM DESIGN TO MAKING $36.95