With the experience of my first workshop in mind, dust control became a priority for me when designing my new workshop. I recall not only sweeping the floors in my previous shop but also sweeping the walls of dust. The dust was the flavour of the day, be it walnut, padauk, cherry, mahogany. The dark, exotic woods were the worst for dust. I installed some dust collection but it was never enough. At the time, my woodworking was more oriented towards the use of sanding in the final stages of a build, so this didn't help. The dust collection I installed was to capture the dust at the source or as it was being generated. This worked to a degree but there would always be airborne dust floating around, a by-product of whatever wood processing I was performing at the time. This is the dust that collects on walls, stays in the air and is unfortunately breathed in.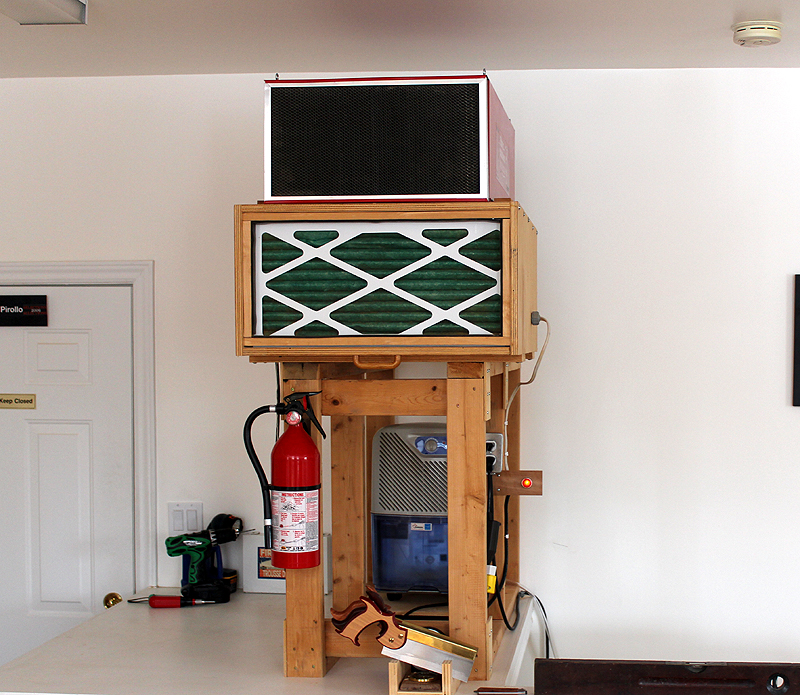 To combat this I built a 3-stage air cleaner as there were next to no commercial units available at the time or they were expensive. This helped considerably in capturing the airborne dust and I immediately became a believer in effective dust control. The shop made air cleaner can be seen here as well as a 3-stage commercial unit just above it. The shop made air cleaner is now moved into my new workshop and together these units effectively clean and circulate the air. Both units are stack-mounted in an unused part of the shop above a stairwell. The air in the shop is recirculated from top to bottom many times per hour and in the process scrubbing the air of fine particulate dust. I use these air cleaners in conjunction with two large capacity DC systems with blast gates at each of the stationary machines in the workshop. So dust control is an important part of my woodworking now. My woodworking today also places much less emphasis on sanding and instead I use hand tools to smooth surfaces of wood.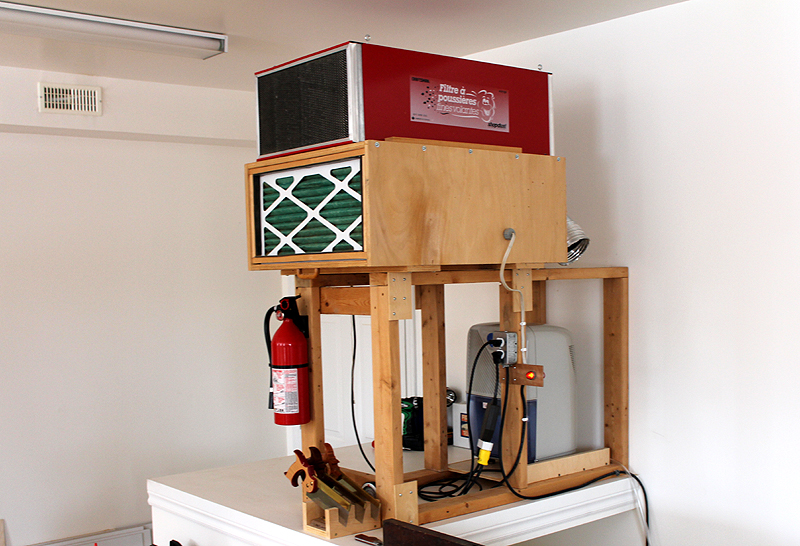 The air cleaners are turned on using a hand-held remote control. The most recent addition is the large red neon pilot lamp which indicates that the air cleaners are running. When I am using a machine, it is difficult to tell if the air cleaners have been turned on since the machine noise exceeds that of the air cleaners. The newly-installed red pilot lamp is immediately noticeable. The air cleaners also have ducting at the rear to direct air downwards to create the recirculating pattern for the shop air.