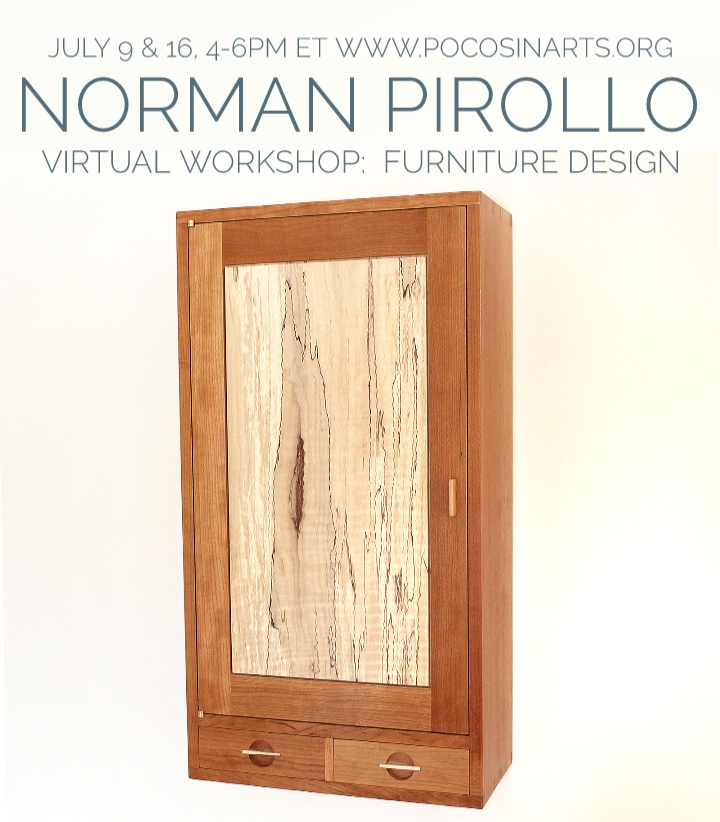 Furniture Design Workshop provided through Pocosin School of Fine Craft. Learn furniture design with a professional furniture maker and woodworker. The furniture design process from concept to final piece is explored. Intro to furniture history provided for context. This workshop will make furniture design less intimidating. First part of the workshop is demonstration with an introduction to sketching and drawing.
Students then sketch, draw and mock-up a furniture piece to be discussed in the second half of the workshop along with remaining topics. Develop your own furniture style and voice. The information filled workshop is presented live from the Pirollo Design studio.
The following design topics are presented in the workshop:
History of Furniture
Furniture Design Concepts
Sketching, Drawing
Mockups
Developing A Style
Material Selection
Prototypes
Batch Mode Concepts
CAD
Details:
Participants must have the ZOOM video platform downloaded on a computer or phone. Participants must have reliable internet access and a computer or phone with sound recording and web-cam capabilities to participate. Check out the list of additional supplies you will need for this workshop here. Once registered, students will receive a video meeting code along with simple ZOOM instructions. Workshop fees are non-refundable but are transferable with a $25 fee. Features live demonstration and the ability to ask questions. Participants will also receive a recording of the demonstration to use for up to 30 days.
Friday July 9 & 16 4:00 – 6:00 PM EST
Registration: Pocosin Zoom Workshops
Norman maintains a blog of ongoing projects in his studio as well as having written and published four books in the past year. Some of the books and magazines where authors furniture, work methods and philosophy have been featured:
Craftisian Interview (Norman Pirollo)
HackSpace Magazine – Make With Wood April 2020
Woodworking: From Design To Making (New Art Press)
The Wood Artist: Creating Art Through Wood (New Art Press)
From Hi-Tech to Lo-Tech: A Woodworker's Journey (New Art Press)
Start Your Own Woodworking Business (New Art Press)
Rooted: Contemporary Studio Furniture (Schiffer Publishing)
IDS15 (Studio North)
Canadian Woodworking magazine Jan. 2015
IDS14 (Studio North)
Fine Woodworking Magazine 4 Bench Jigs for Handplanes
2009 Fine Woodworking Magazine
Essential Shopmade Jigs 2009
Woodwork magazine
Wood Art Today 2 (Schiffer Books)
500 Cabinets ( Lark Books)
Studio Furniture: Today's Leading Woodworkers (Schiffer Books)
Canadian Interiors Design Source Guide
Ottawa Life magazine (Profile, work) 2012
Panoram Italia magazine
Our Homes magazine