Norman Pirollo, successful founder of White Mountain Design, White Mountain Toolworks, WoodSkills, Refined Edge Design and Pirollo Design; guides you through the process of starting and setting up your own woodworking business. Learn from an experienced business person in this field. Norman provides the necessary expertise and answers questions about starting your own woodworking business in this information filled book.
A few of the topics covered in the book are:
01. Is self-employment for you?
02. Converting a hobby into a business
03. Part time vs. Full time?
04. Finding a niche for your woodworking
05. Legal considerations of a woodworking business
06. How much space do you need for a woodworking business?
07. What equipment and tools do you need?
08. Finding or creating a market for your woodworking
09. Creating a portfolio of your work
10. Marketing your woodworking on the Internet
11. Woodworking and making furniture on commission
12. Coping with the ups and downs of a woodworking business
13. Separating your woodworking business from personal life
14. Maintaining the passion and motivation
15. Diversifying and Expanding
16. Do you need to hire an additional employee?
17. Technology in woodworking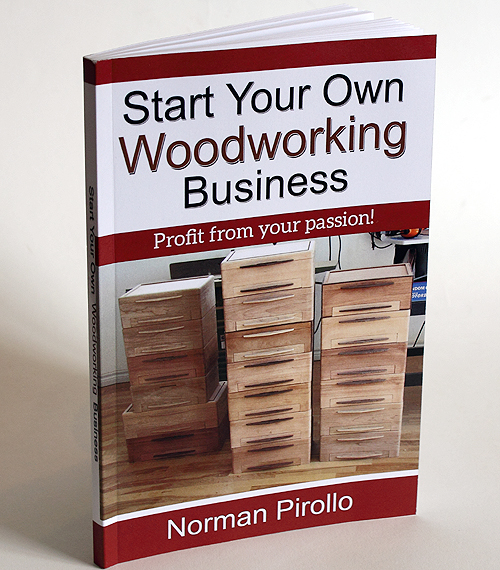 The authors furniture and wood art are featured in various international books and magazines. His furniture and wood art have won awards both in furniture and art shows. The unique, studio furniture which the author designs and creates can be seen at: Pirollo Design. Norman is also the founder of White Mountain Design, maker of fine jewelry boxes, humidors and wood hand planes since 1996.
Norman also maintains a blog of ongoing projects in his studio at: pirollodesign.com as well as having written and published three books in the past year. Books and magazines featuring the authors furniture, work methods and philosophy:
From Hi-Tech to Lo-Tech: A Woodworker's Journey (New Art Press)
Start Your Own Woodworking Business (New Art Press)
Rooted: Contemporary Studio Furniture (Schiffer Publishing)
IDS15 (Studio North)
IDS14 (Studio North)
Canadian Woodworking magazine Jan. 2015
Our Homes magazine Fall 2014 IDS14 (Studio North)
NICHE Magazine Winter 2013
Fine Woodworking magazine
Woodwork magazine
Wood Art Today 2 (Schiffer Books)
500 Cabinets ( Lark Books)
Studio Furniture: Today's Leading Woodworkers (Schiffer Books)
Fine Woodworking Shopmade Jigs 2009 2012
Canadian Interiors Design Source Guide
Ottawa Life magazine
Panoram Italia magazine
Our Homes magazine
Craft Journal
120 Pages, Non-fiction, Softcover.
Digital version available ($15) at WoodSkills
Print $19  available through Amazon