In this tutorial the techniques for inlaying wood are presented. The art of wood inlay has been a part of furniture making and woodworking for centuries. Wood inlay can be used to enhance the appeal of furniture or wood objects by making plain panels of wood much more visually appealing.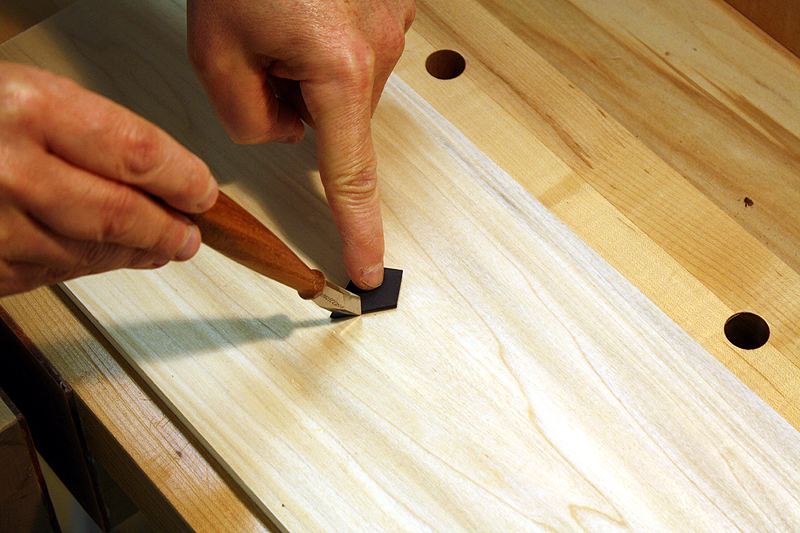 Although inlay can be intimidating at first, after following this tutorial and some practice you will be comfortable using inlay in your work. The first part of the tutorial describes the concept of inlay and selecting contrasting woods as a method of inlay. The next part of the tutorial describes the concept of preparing and cutting inlay followed by step by step sequences to create the mortise for the inlay and inserting the inlay. Afterwards, the technique for handplaning and scraping the inlay flush with the surface of the surrounding wood is described and demonstrated.
The step by step sequences describe how to create the inlay, create the mortise for the inlay, insert the inlay and finish the panel. The inlay will appear to be seamless within the panel when completed. Since there is extensive chisel work when creating and applying inlay into wood, we also include a video on chisels as part of this tutorial.
This tutorial will answer many questions you have about inlay and how to apply it. I use inlay extensively in my own furniture making. The inlay adds beauty to furniture and enhances its aesthetic. After following this tutorial which includes video, you will have a better understanding of how to use chisels to both create inlay in wood as well as in your woodworking.