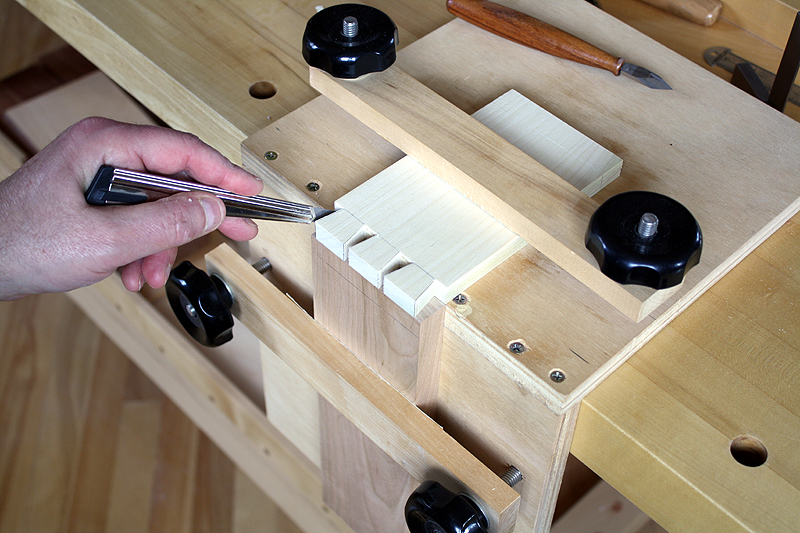 With our dovetail jig plan you can make beautiful and striking woodworking dovetail joints. The dovetail joint is very often associated with quality woodworking. It is both a structurally strong and aesthetically pleasing form of joinery. Dovetail joinery is often used in case construction and for drawer construction, specifically drawer fronts as it is a very strong, interlocking joint. Although dovetail jig plans are available to create dovetail joinery, most if not all of these dovetail jigs involve powered tools. The hand cut dovetail offers unparalleled beauty in that any dovetail layout is possible.
Dovetail joints are composed of mating pins and tails. In the photo below the tails are horizontally oriented in a dovetail jig. Creating dovetails by hand using a dovetail saw, chisels and marking tools, provides the flexibility to lay out tail and pin spacing more suitable to the drawer or case piece being constructed. The dovetail jig below is designed to enable you to accurately create hand cut dovetails. This jig can easily be built from the plans available below and provides excellent accuracy, ease and precision in the creation of hand cut dovetails.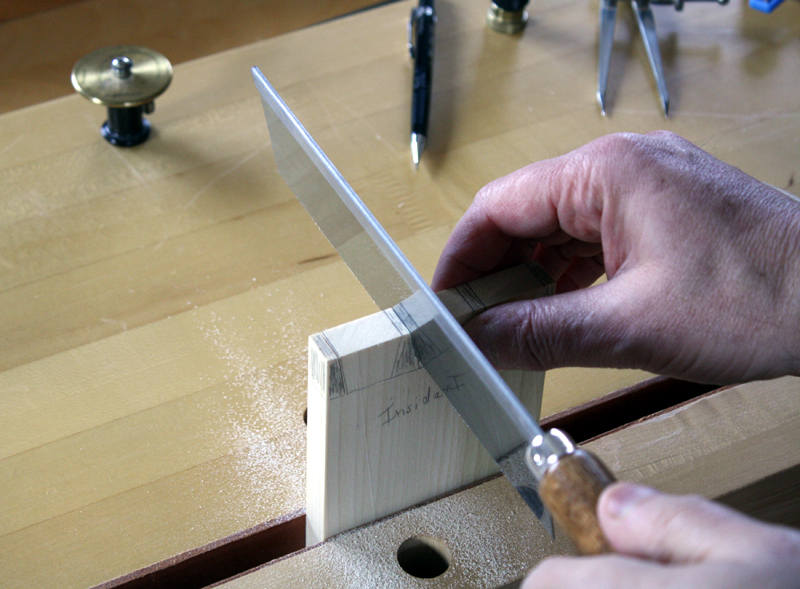 The dovetails in this tutorial and plan are created exclusively with this dovetail jig and hand tools. The contrast created with a lighter tail board and a darker pin board is striking. In drawer construction, the thicker piece can easily be a drawer front whereas the thinner piece is typically the drawer side. As mentioned earlier, the spacing and width of the individual pins and tails can easily be customized to suit the piece when crafting hand cut dovetails.
An assortment of hand tools are used in the creation of hand cut dovetails. Typical tools include layout and marking tools, chisels, a dovetail saw, a mallet, etc. Laying out and marking are of utmost importance in creating precision dovetail joints. Accurate transfer of the tail layout to the pin board ultimately determines how tight and gap free a dovetail joint will be. After following this tutorial which includes a video, you will have a good understanding of dovetail joinery.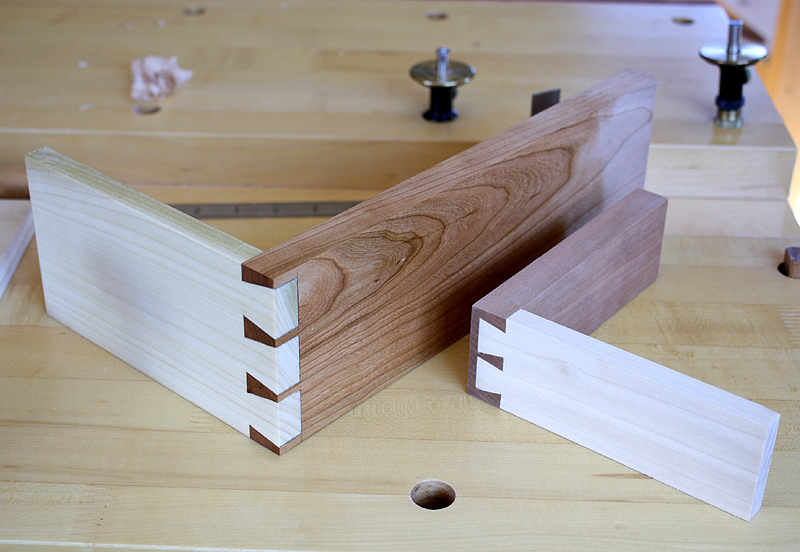 Comprehensive information, dovetail jig plans,70 pages, over 100 photo sequences and video on how to create hand made dovetails using this dovetail jig. (14) detailed computer designed illustrations (CAD) on how to make this dovetail jig are also included when you purchase this plan.