I have recently compiled a series of 16 videos into an online class. The subject was a recent display cabinet. The design and build of the striking Krenov-inspired display cabinet seen above is discussed and demonstrated. The contemporary styled display cabinet features veneered sides and doors. The veneers selected are highly figured although they can be substituted with alternative veneers. The frame and panel back adheres to the Krenov principle of properly finishing the back of the cabinet. James Krenov is widely known for his classic cabinets on stand as well as the incredible attention to detail he brought to furniture making. He also brought a unique philosophy and vision to furniture making of which I heed and practice. A large part of this veneered display cabinet has been created using an assortment of hand tools although some machinery is used in the initial wood preparation stage. Follow me as I describe the steps involved in creating a masterpiece veneered cabinet on stand.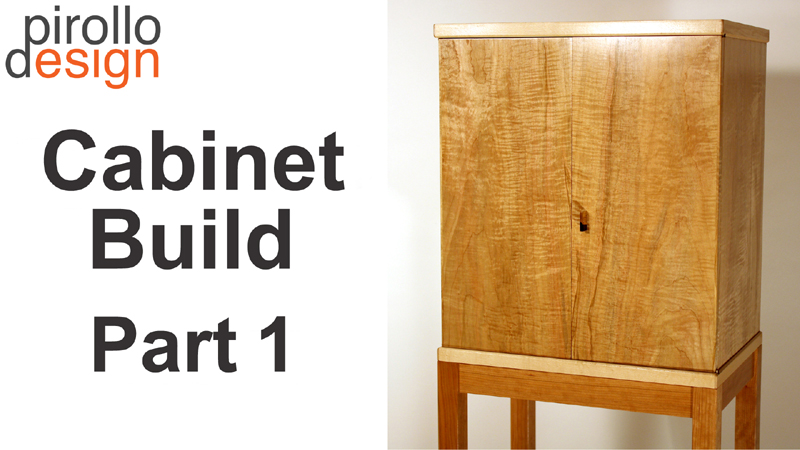 The following topics are covered in detail in this 16 part design and build class:
Inspiration and design of the display cabinet
An overview discussing components of the cabinet
Wood selection and resawing veneers used in cabinet
The advantages of using veneers over solid wood
Detailed information on creating and using resawn veneers
The process of applying veneers to the sides and doors
Implementing bake-ins to create panels with hardwood edges
Hardwood edging and the veneer press
The veneer press and joinery used in the cabinet
Card scrapers and the use of a shop-made drilling guide
Dowel drilling guide in-depth
The case construction process
Frame and panel construction of the back panel
Back panel detail and installation
Final case assembly of the display cabinet
Installation process of knife hinges for the doors
Each video segment addresses one aspect of the cabinet build. The design process as well as the methodology behind the build are addresses. This is not simply a class on how to build a cabinet on stand. The class will inform you of a similar design process that James Krenov used in his own work. Since I am an ardent follower of James Krenov, the practices I use in this cabinet build closely follow those of James Krenov. Discussions and demonstrations describe how the design of this display cabinet originated and the design considerations in its build. Information on wood selection and preparation as well as the joinery used in this cabinet is covered in detail. Tips and techniques acquired over several years of creating this style of cabinet are shared in this class. The process of creating and applying veneers is covered as well as information on the installation of knife hinges. More info in the Tutorials section.